Travelling with a small pet on board seems to be not so easy, especially with Lufthansa, where staff members have no idea about European Law Regulations and they don't know their own company regulations. Why? Read about my awful trip to Europe with Lufthansa.
Travelling with a pet
My pet is small cat, who is real traveller. He travels with me on boards, in a car and he is always with me. On December 2019 I was coming back with him from United States to Poland, Europe and here the journey begins.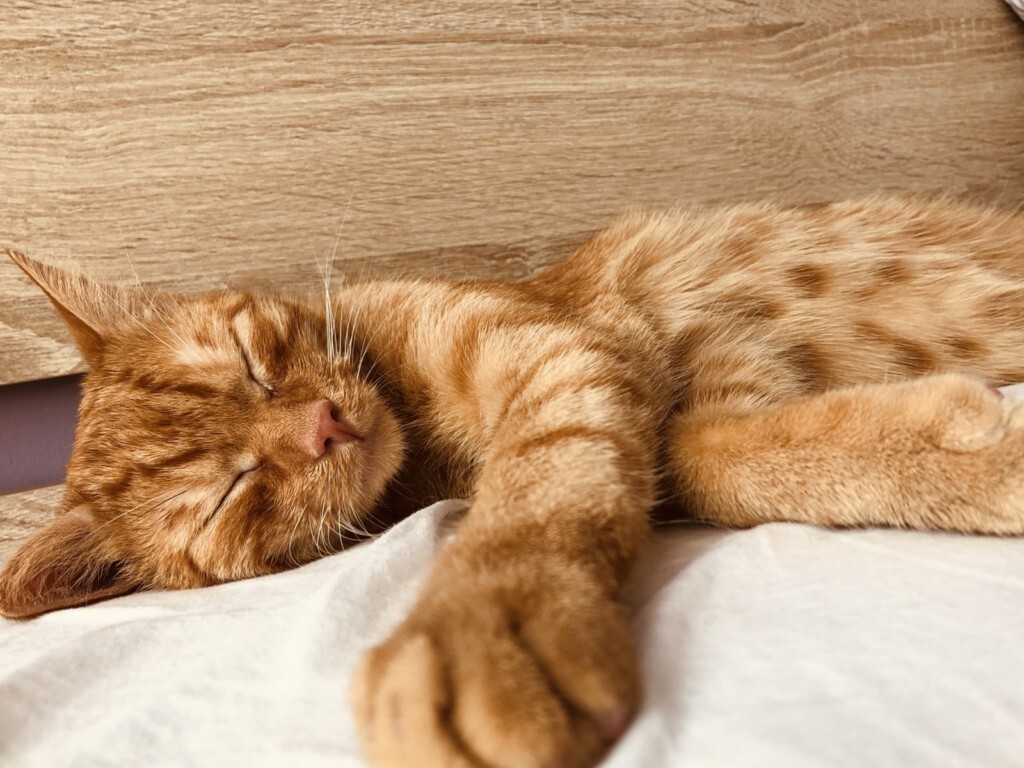 Travelling with Bandzi (that's my pet's name) from Poland to US was a piece of cake. He had passport issued by European Union veterinary, has all needed vaccinations including rabies vaccination. He was travelling in a proper kettle and the trip was very nice. We were travelling from Kraków (KRK – Balice Airport) to San Francisco (SFO International Airport).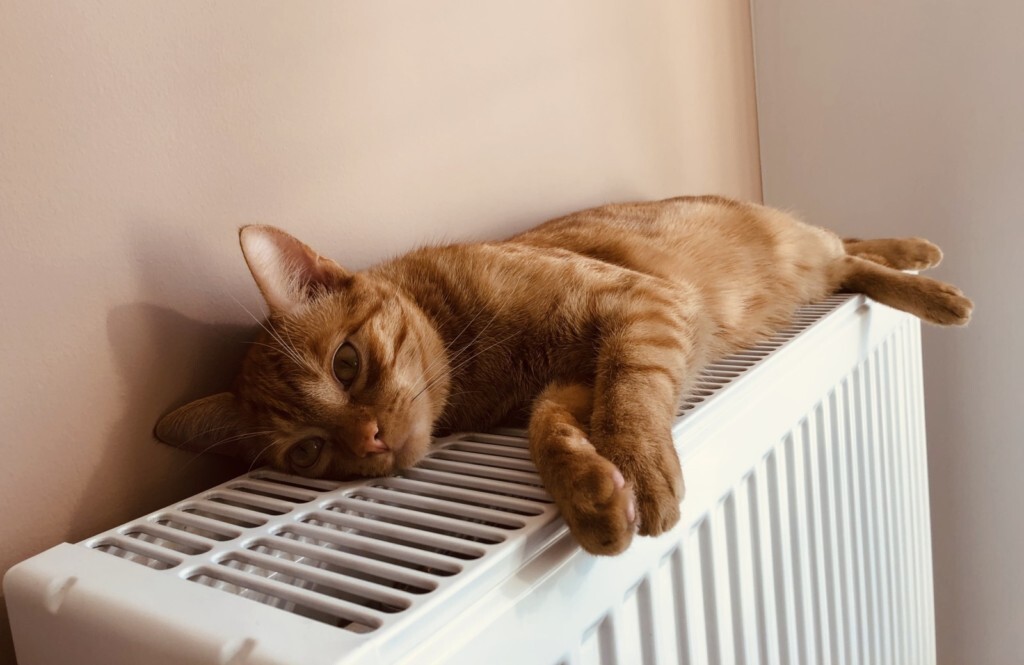 Before leaving European Union I've decided to get him a Pet Passport because I've assumed that we will be going back from USA within 6 months. In European Union Regulations I read that I do not need any other documentation to leave US if I do have a Pet Passport issued by European Union and valid rabies vaccinations. You can check this out here.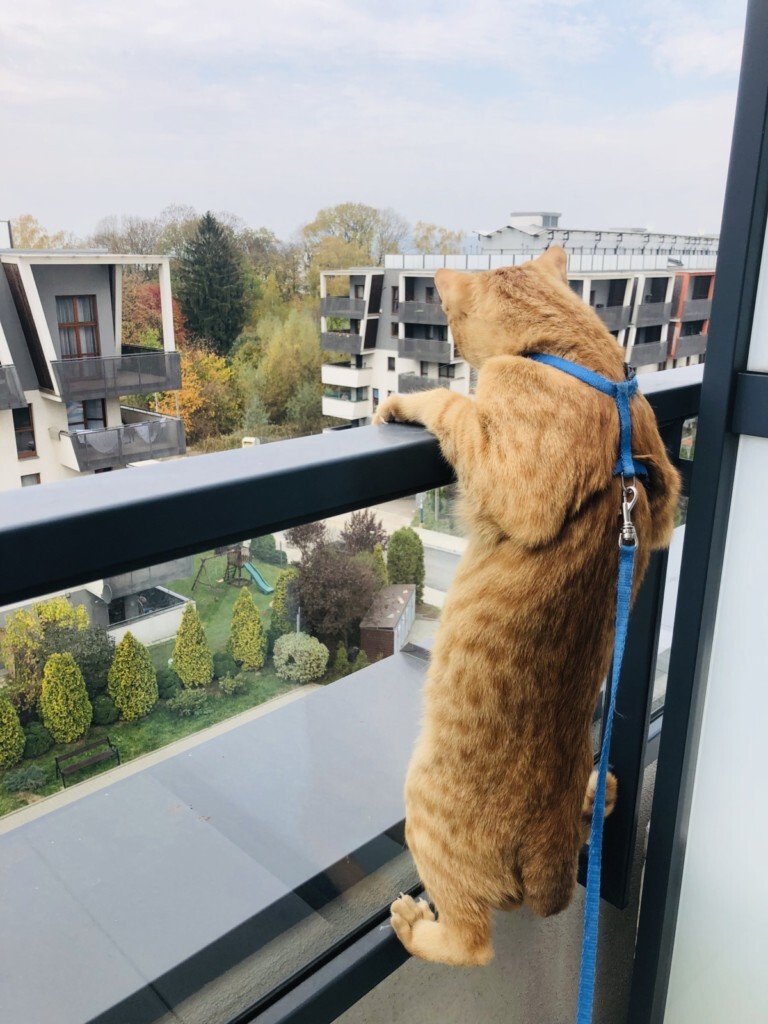 My pet is cute and sweet cat. He is always very stressed during the trip, he doesn't like vets and doesn't like to be alone at home or in the kettle. We always enjoy our time together, I really care about him because he is a part of my family.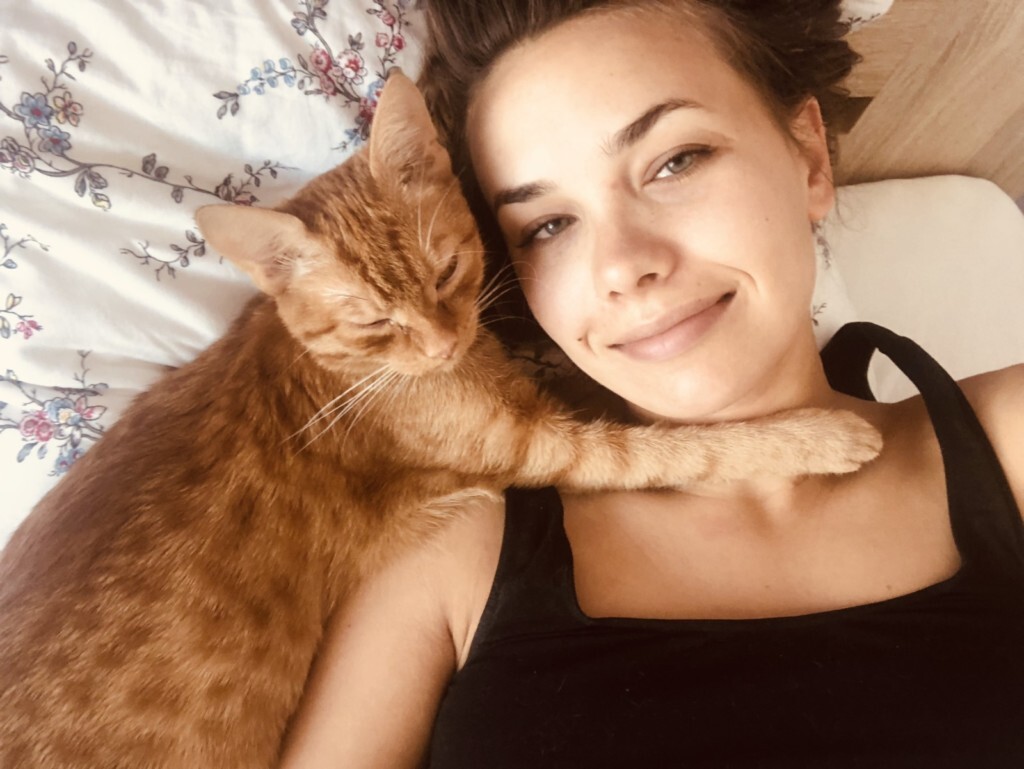 Cats don't like changing environments, don't like travels, don't like crowded places and especially – don't like airplanes and being closed in carriers. Lufthansa caused that our trip was even more unpleasant, full of stress and disinformation.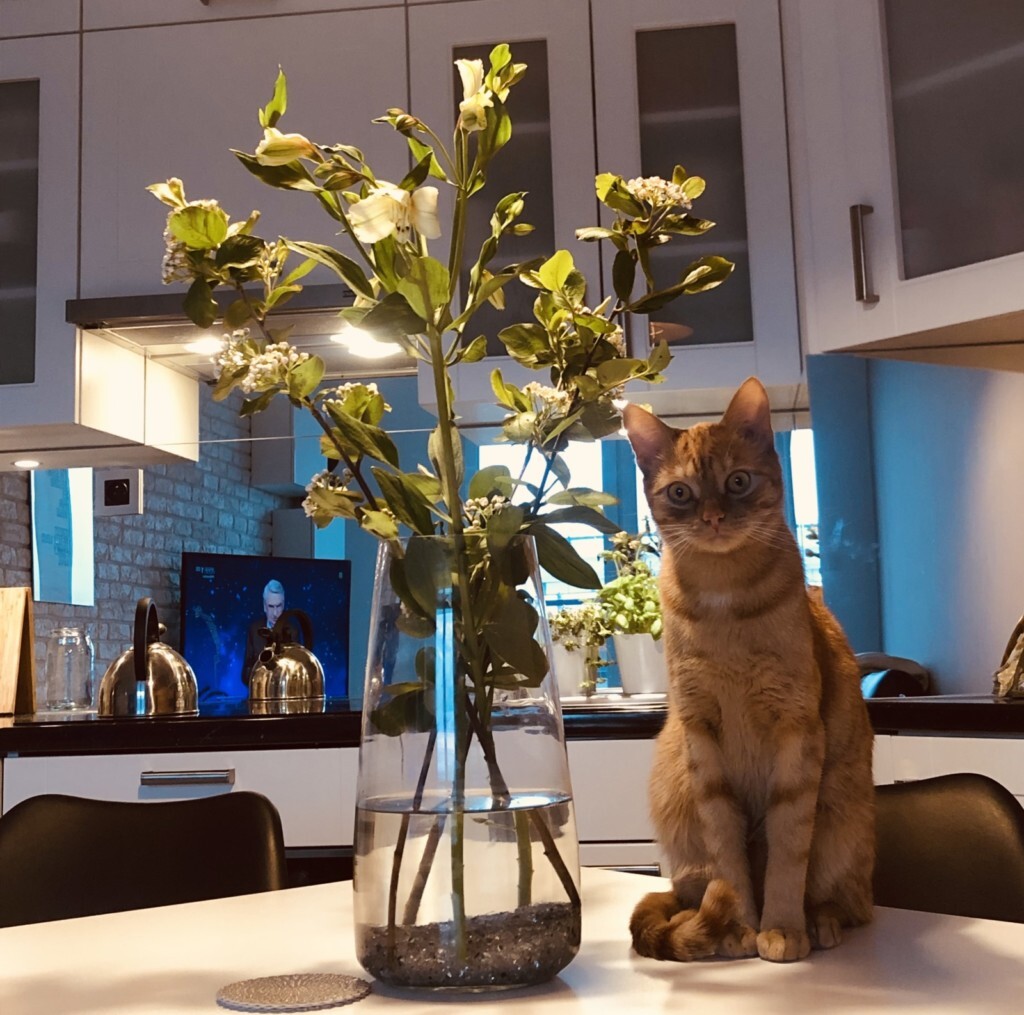 While traveling from USA to Poland, Europe, I've decided to choose Lufthansa because I thought they are a professional, safe and comfy airline. Their mission is…
Lufthansa's mission is to become a leading name in the world of air travel by being the top preference of customers and shareholders all over the world. It aims to continue playing a significant role in shaping the global aviation market as it has been doing for the past decades.

Source:  Cleverism.com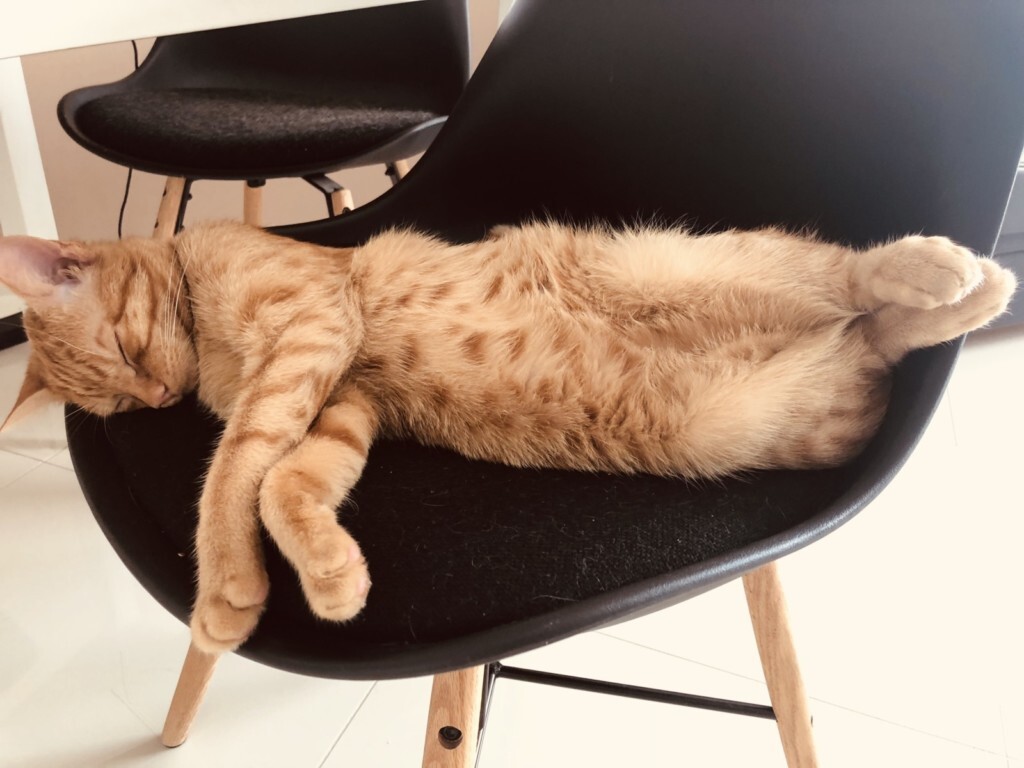 The Lufthansa Group says a lot about responsibility and sustainability, they say that they care about the environment, but as we see the don't care about people who are travelling with a pet on board on Lufthansa aircrafts, what's more – they don't know their own rules. Why I say so? Listen to the story.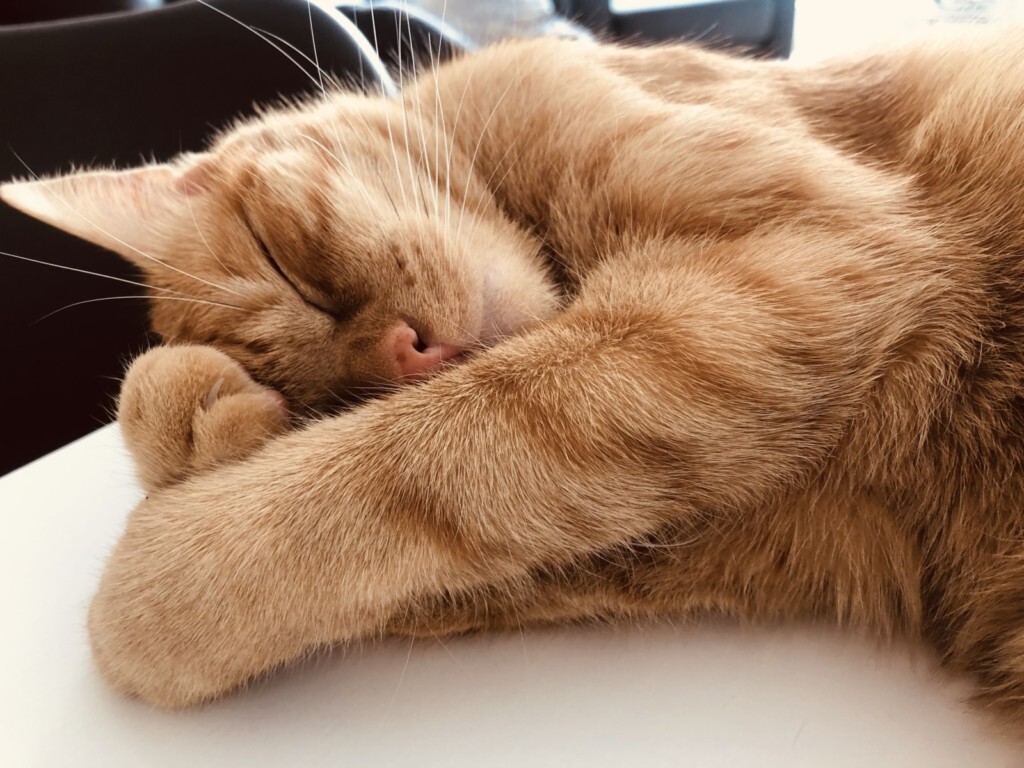 Before leaving USA I called Lufthansa to make sure if everything is fine and my pet reservation is under my name and my pet is travelling with me. I was calling three times December 17th around 12:00, 13:00 and 15:00 pm. Lufthansa staff members told me at first that they do not have my reservation in the system (although I reported my pet month before my flight). When they add my pet reservation to my ticket (what they should do month earlier) the Lufthansa representative told me on the phone that I MUST have a Health Certificate and Endorsement.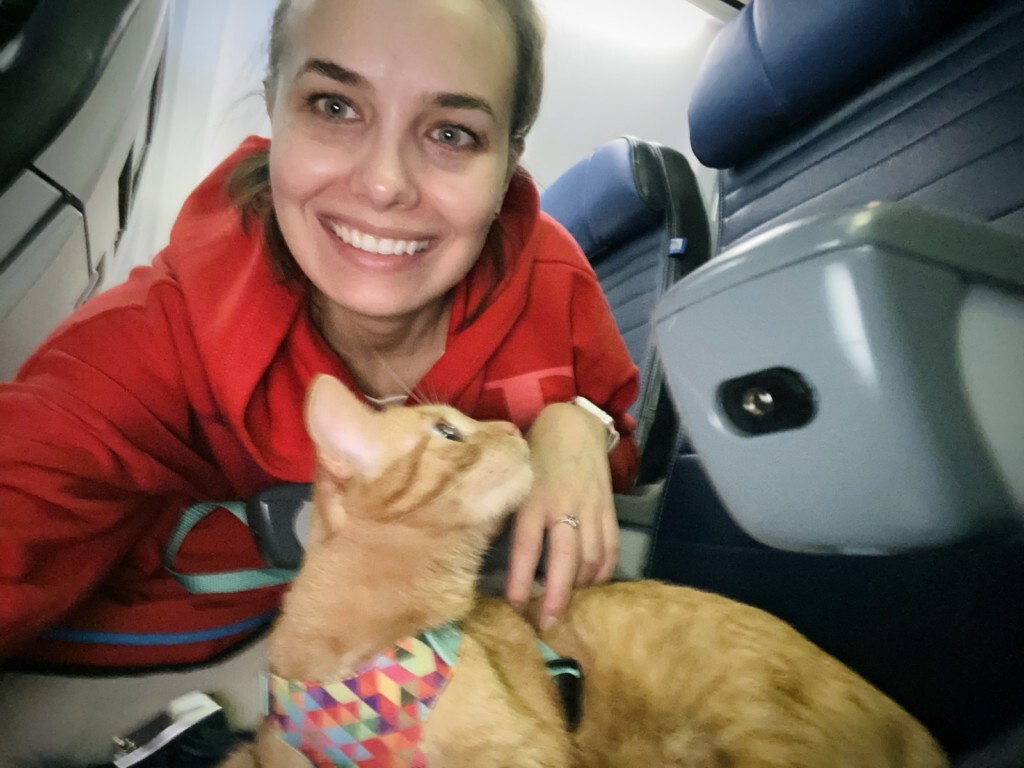 I told them (3 times) that I don't have to get a Health Certificate, because I do have European Union Pet Passport with valid rabies vaccinations and issued before leaving EU by EU Veterinary. They told me, that if I won't have a Health Certificate they won't let me in with my pet on board, even if I do have a Pet Passport.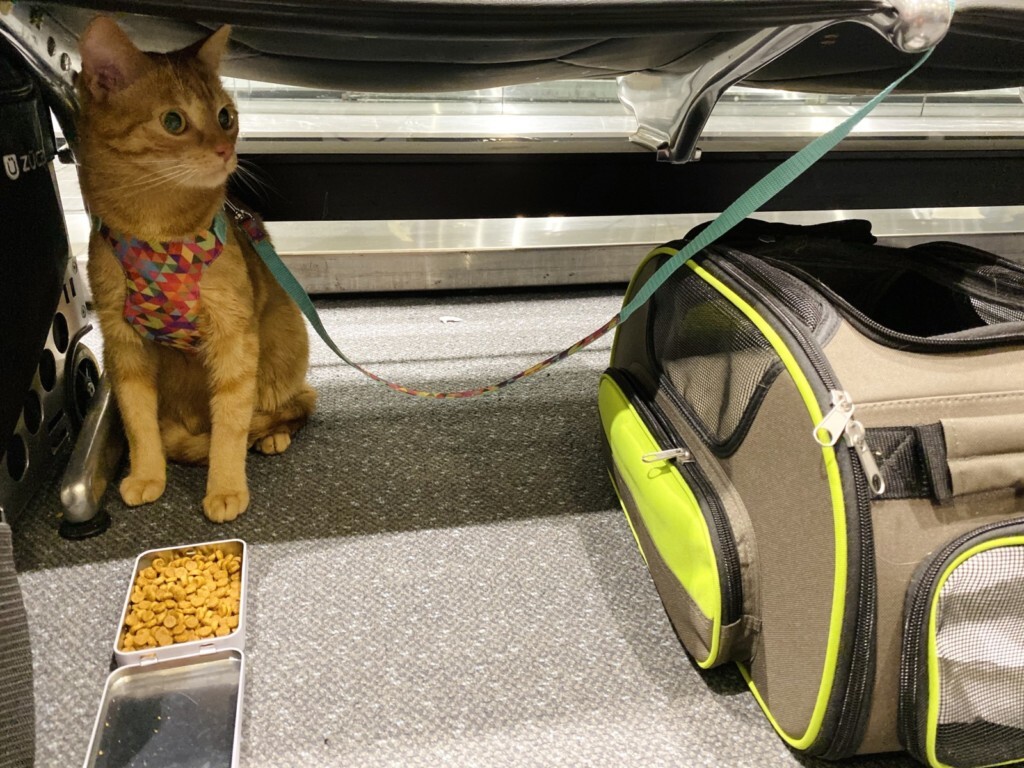 I have decided to contact General Consulate in Los Angeles to make sure if the UE Pet Passport is enough to travel with my pet and Consulate validated this information in Polish.
Szanowna Pani,

Moim zdaniem jest to dziwne, bo właśnie temu, jak rozumiem, ma służyć idea posiadania paszportów unijnych dla zwierząt. Zresztą ta informacja jest potwierdzona w dwóch źródłach – polskim, które wysłałem oraz amerykańskim.

Mimo wszystko życzę udanej podróży i spokojnego pobytu w Europie.

Z poważaniem,

Konsulat Generalny RP w Los Angeles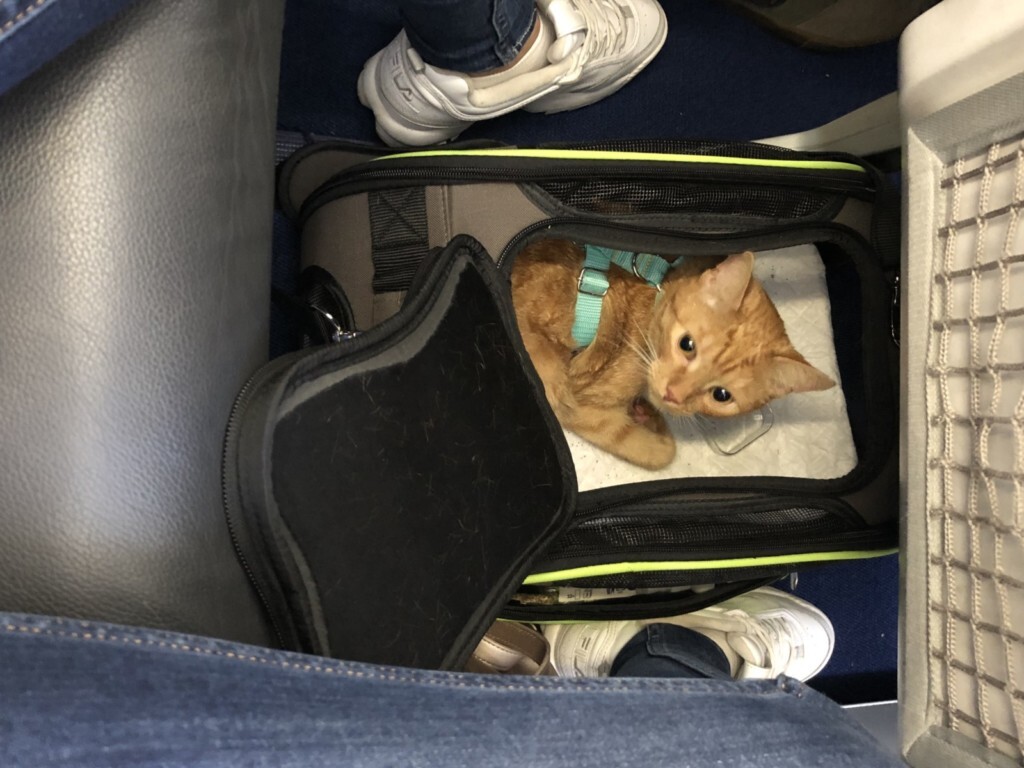 I called Lufthansa one more time and they still was telling me the same story. I was trying to explain, that I do have a Pet Passport etc., but they weren't listen.
I've decided to contact the TSA (Transportation Security Administration – Official website of the Department of Homeland Security) if they have the same requirements. TSA admits, that they don't need any additional documentations, they only have to check the pet and the kettle.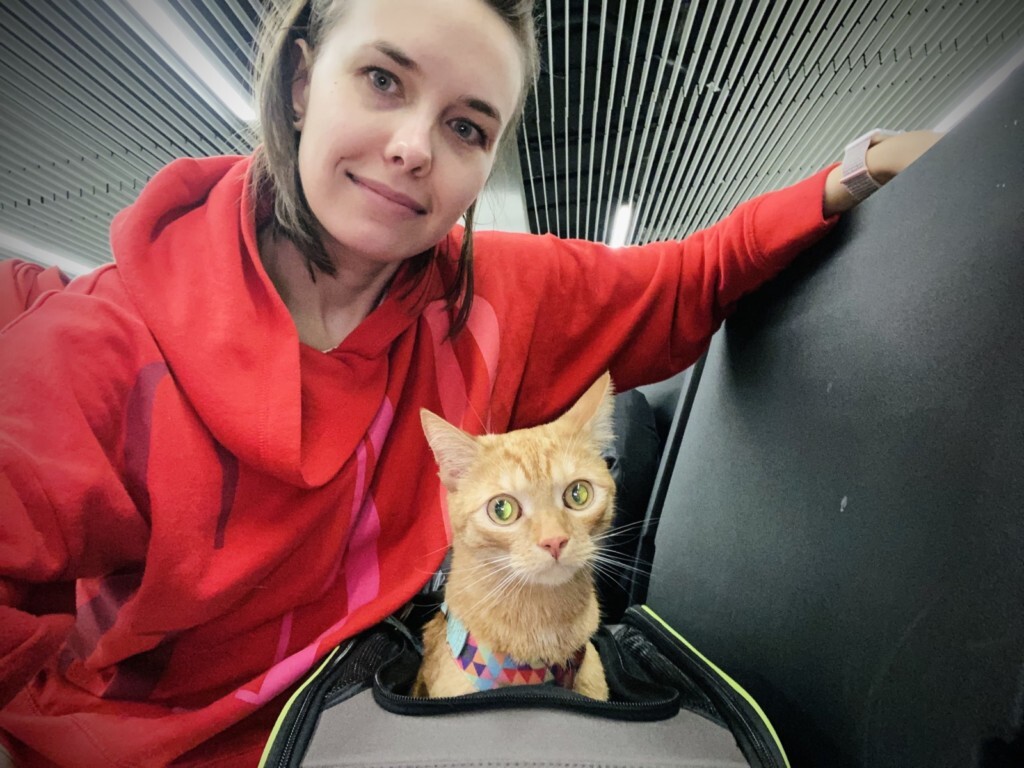 I've decided to call the USDA (United States Department of Agriculture) and department of APHIS (Animal and Plant Health Inspection Service), to make sure that the Health Certificate and Endorsement are useless.  Here you will find this information. Health Certificate and Endorsement are required only when your pet does not have a Pet Passport. See the e-mail attached below from APHIS: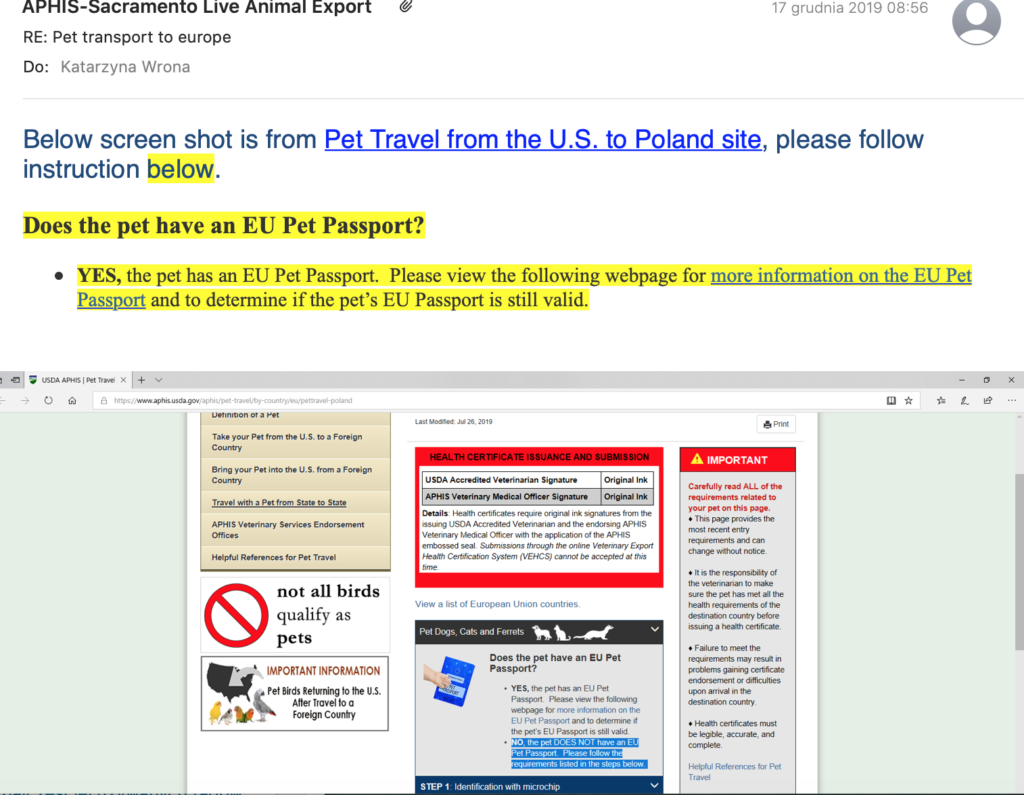 I called Lufthansa one more time and they told me that they DON'T CARE what are other requirements (even if those requirements are related to the law) and I MUST HAVE a Health Certificate and Endorsement.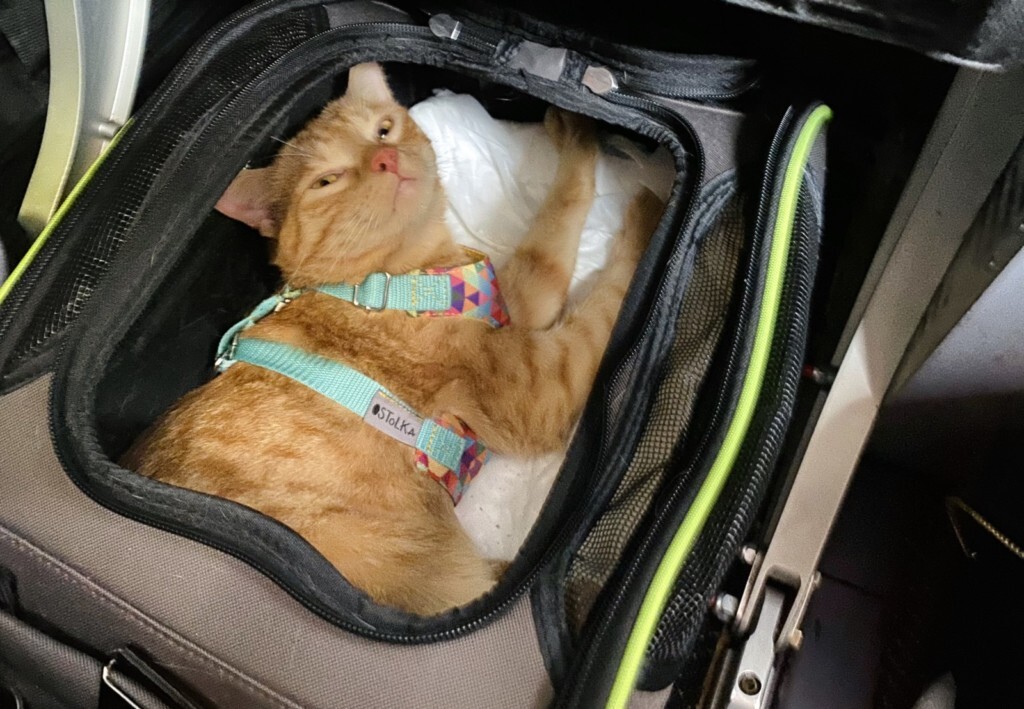 I love my pet and he is always on the first place so I decided to get the Health Certificate and the Endorsement. I had to travel 500 miles to Sacramento to get this documentation and visit vet with my pet. I spend $300 on all of those useless papers and had to travel in a heavy winter weather conditions through the Sierra Nevada Mountains to Sacramento.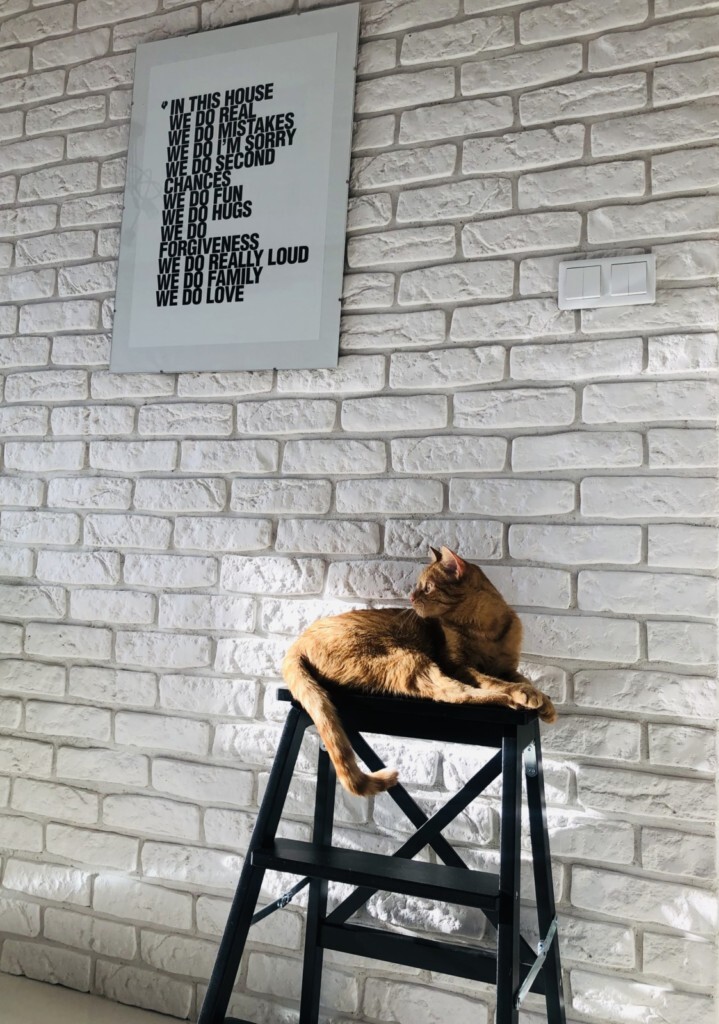 Did Lufthansa check the documentation they required? Absolutely NOT.
During my whole trip (I was travelling from RENO -> Denver -> Frankfurt -> Poland), absolutely no-one checked any of the following documents: Pet Passport, Health Certificate or Endorsement.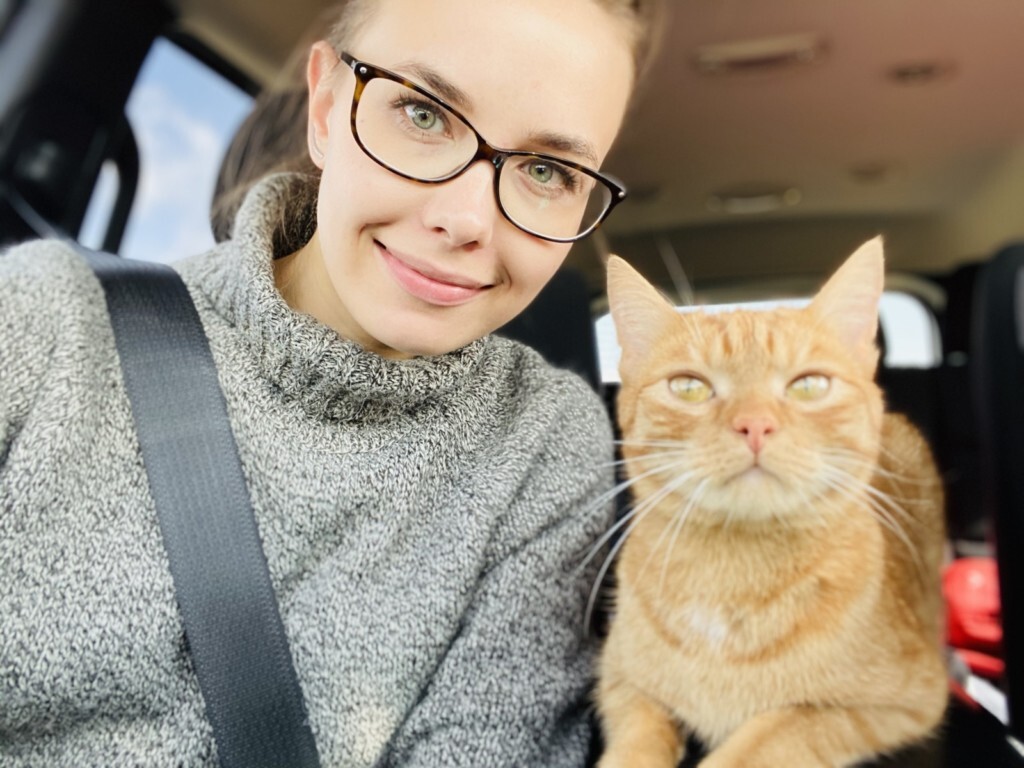 What's more – no-one check the kettle and pet inside (besides TSA of course). I could have a three wild snakes or a bear in this carrier and no one from Lufthansa staff member didn't check what's inside the kettle when we were going into the plane. Some of them didn't even realised that on their aircraft was a pet….. That's unacceptable considering passengers safety!!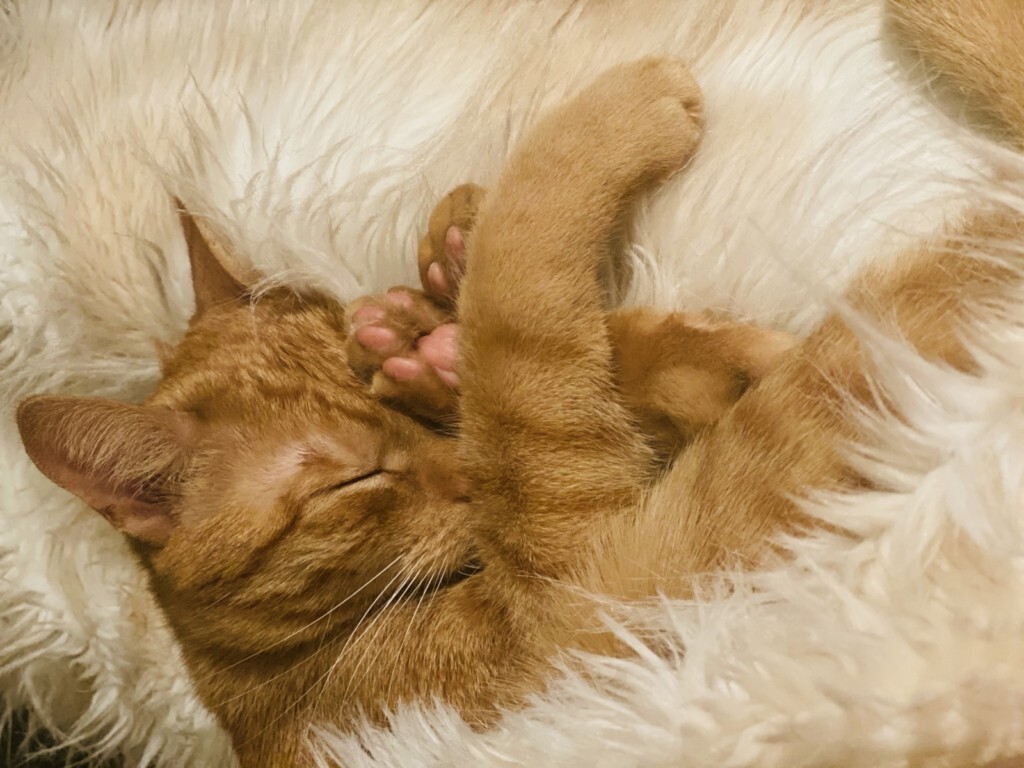 When I got back to Europe I decided to submit a claim. Can you believe, that Lufthansa didn't want to reimbursed? They told me wrong informations which provided a lot of misunderstandings. I was sending a dozen or so e-mails and finally they decided to give me back $300 which is not what I was asking.
I was travelling with a pet on board, which has valid European Union Passport and rabbis vaccinations. European law says, that I don't have to have a health certificate, while travelling with a pet on board from US to EU with valid documents. I called TSA, United Airlines, General Consulate in Los Angeles and US governmental veterinary. Everyone said that health certificate is not required. Their staff members gave me wrong information – three times. Every person said that Lufthansa requires documentary which is not true. Additionally – health certificate is not required by law when you have a pet passport, which I had.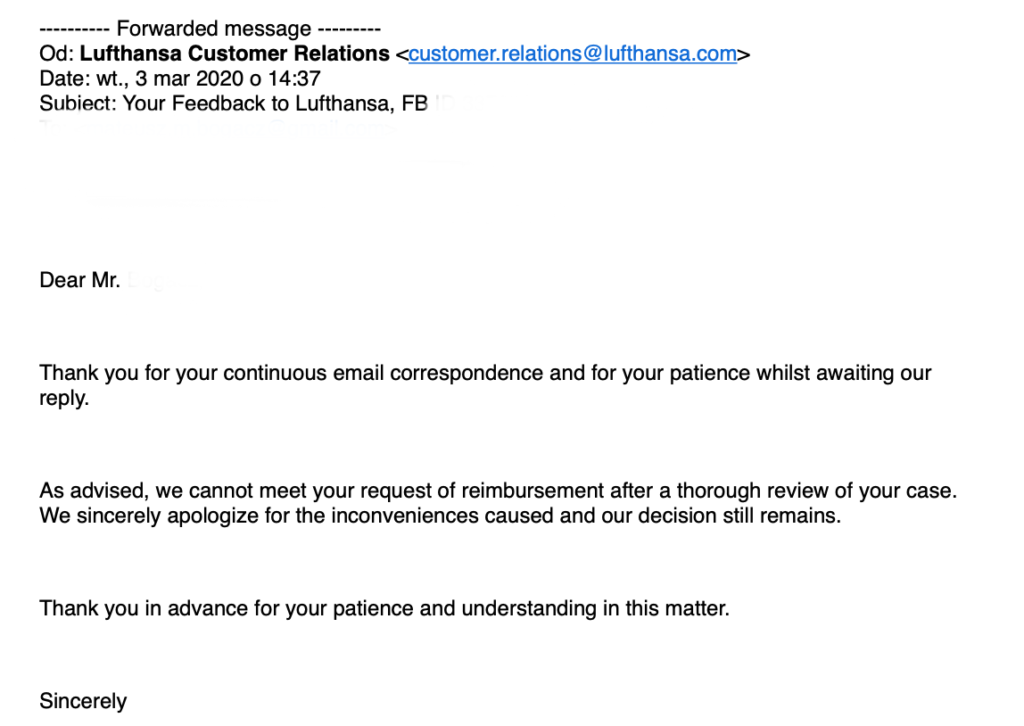 Then I decided to explain one more time the whole thing and they still didn't understood. Messages like that were a lot so finally they decided to offer me 150 Euro which is not covering even my costs so I decided to explain everything one more time.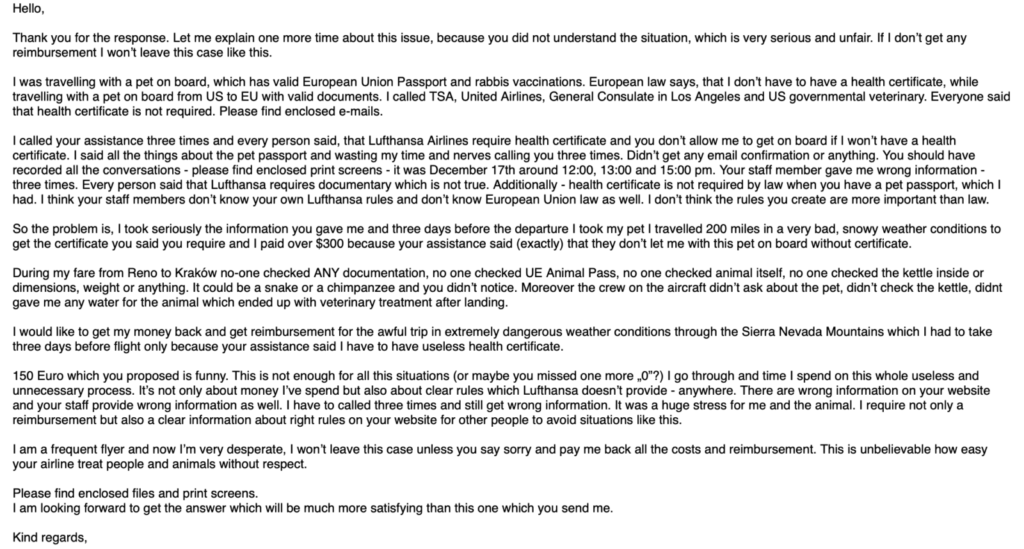 After this message they send me an information, with all of the European Union law regulations which I have already send to them at the beginning our correspondence so I decided to send them one more time.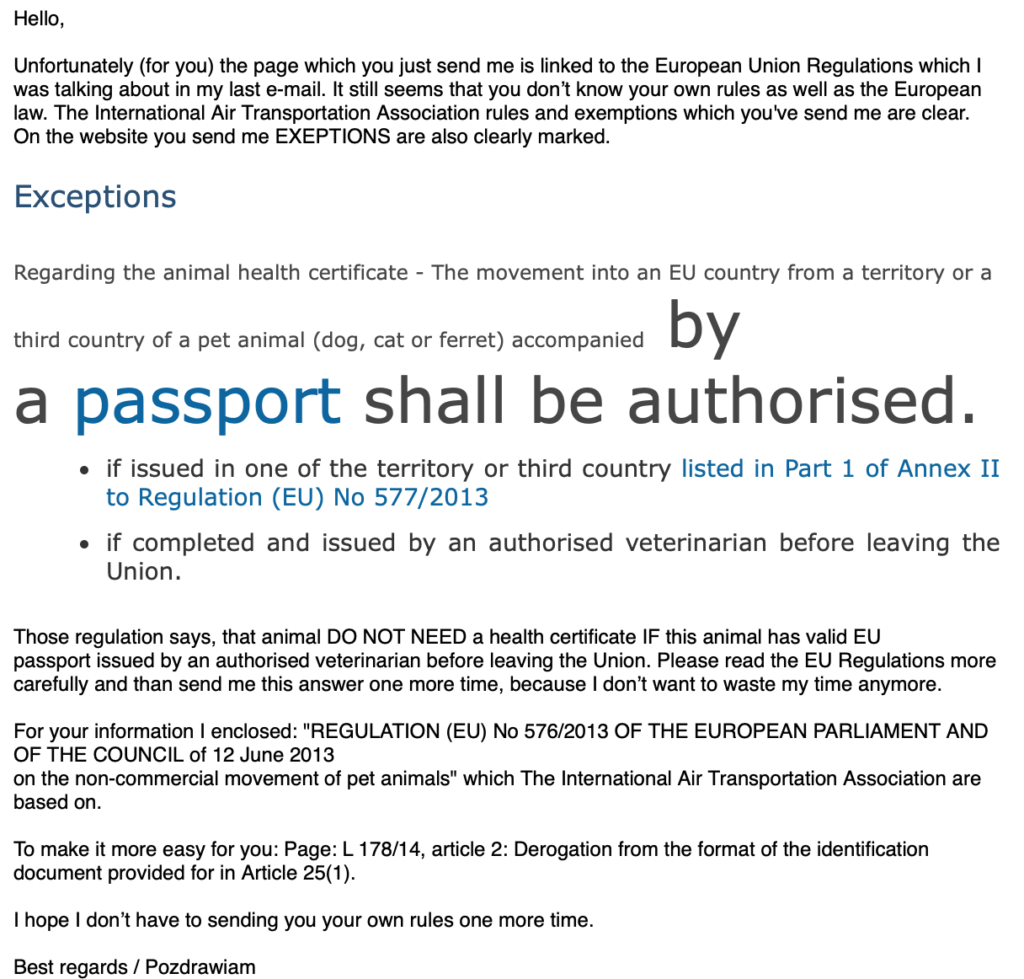 After this message they offer me $293 which still not covers all of the costs and it's not about the money but also about clear rules which Lufthansa doesn't provide – anywhere. There are wrong information on the website and their staff provide wrong information as well.
I had to called three times and still get wrong information. It was a huge stress for me and the animal. I require not only a reimbursement but most of all I require a clear information about right rules on Lufthansa website for other people to avoid situations like this.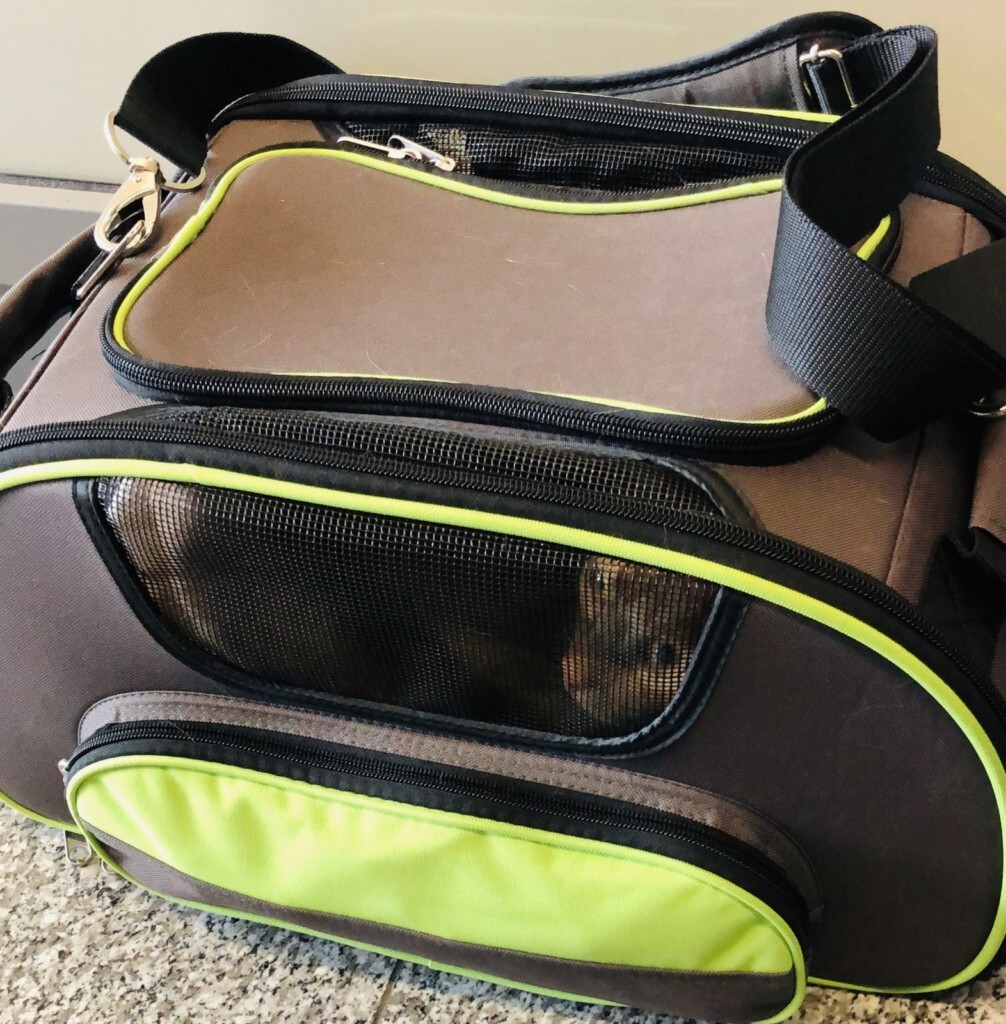 On the website of The International Air Transportation Association EXEPTIONS are also clearly marked.
Exceptions
Regarding the animal health certificate – The movement into an EU country from a territory or a third country of a pet animal (dog, cat or ferret) accompanied by a passport shall be authorised.
if issued in one of the territory or third country listed in Part 1 of Annex II to Regulation (EU) No 577/2013
if completed and issued by an authorised veterinarian before leaving the Union
Those regulation says, that animal DO NOT NEED a health certificate IF this animal has valid EU passport issued by an authorised veterinarian before leaving the Union.
For your information: "REGULATION (EU) No 576/2013 OF THE EUROPEAN PARLIAMENT AND OF THE COUNCIL of 12 June 2013
Page: L 178/14, article 2: Derogation from the format of the identification document provided for in Article 25(1).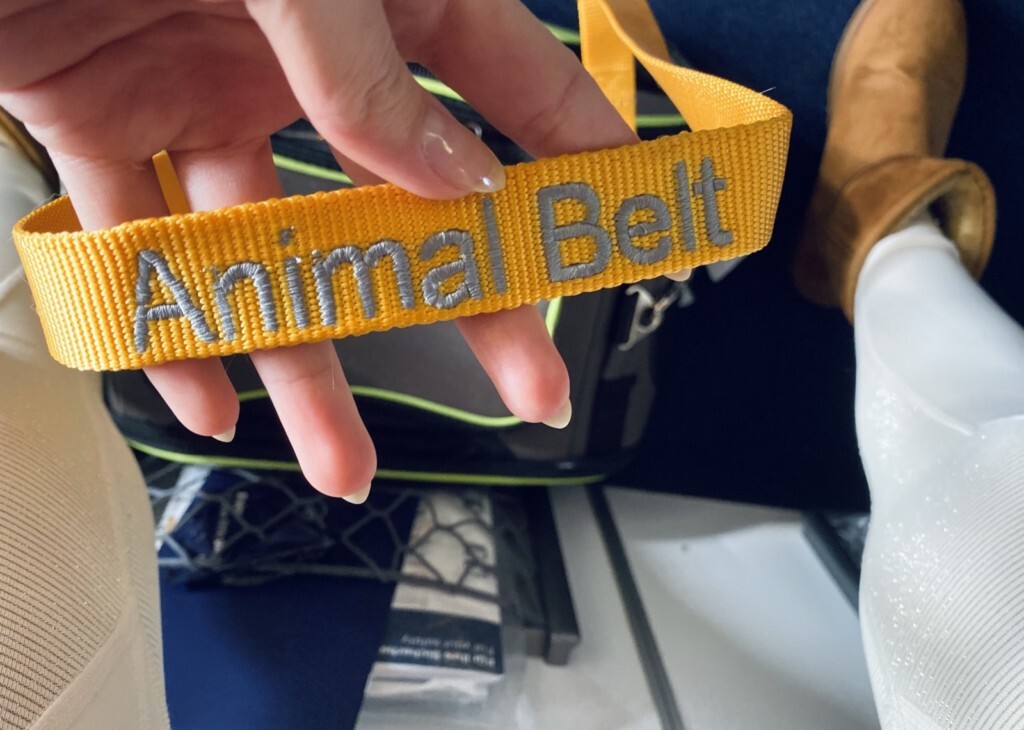 I hope this blog post will help not only me but also other travellers in the future. For now I didn't get my compensation and I didn't get right information on the Lufthansa website.
So now, if anyone will travel from EU to USA and back with Lufthansa aircraft will (still) get the wrong information about Health Certificate and Endorsement which are not needed and will pay $300 for nothing.
[contact-form][contact-field label="Podpis" type="name" required="true" /][contact-field label="E-mail" type="email" required="true" /][contact-field label="Witryna internetowa" type="url" /][contact-field label="Wiadomość" type="textarea" /][/contact-form]