Since I heard about Cinema Make-up School,  it was my only dream to study here. They say, the heart of school are always teachers. If that's true, this is one of the best schools in the world. Read more!
The school is located in Koreatown, Los Angeles in a old Wiltern Theatre building. Design of the art deco elevation was created by the same architect, who designed the Max Factor's make-up studio at Highland Avenue, LA – first make-up studio in the world.
Cinema Make-up School is a for-profit, private institution, founded in 1993. Specialties include not only beauty make-up for film and television,  but also airbrushing and bodypainting, character make-up, special make-up effects,  prosthetics and more.
Most of the teachers are award winning make-up artists.  Ve Neil has eight nominations and won three Academy Awards for the films Beetlejuice, Mrs. Doubtfire and Ed Wood.
Pirates of the Caribbean creatures are made by  Joel Harlow. He won the Academy Award for the Star Trek special effects make-up. Some of his designs are located at the school museum on second floor.
Nelly Recchia is one of the most popular airbrush make-up artist. She worked with Selena Gomez, Gwen Stefani, Usher or Madonna.
They are not only great artists but also a teachers. The most amazing teacher in Cinema Make-up School is Wendy Ann Rosen. She was working with Leonardo di Caprio, Jennifer Aniston, Johnny Depp, Jennifer Lopez and more… But there's no teacher in the world as she is. She has this amazing ability to talk about make-up and business, she is full of energy and always helpful.
Classes are Monday-Friday 9 am-17 pm. There is an hour lunch brake. Most of the courses are three weeks long and all of them together gives you a one year, full track education. I took Advanced Beauty Theory, 3 weeks course.
Classes starts from lecture and inspirations. Then, after demo make-up, students create their own make-up looks, working in pairs. First make-up look should be done in 1 hour and then bum up look.
In the corridor there is a small 'studio' to take photographs. After each classes teachers shoots student's work. Photos are available for downloading on the school smug mug. It's great because you are welcome to take professional model for everyday class – it's easy to build up your portfolio!
There's also a small kitchen, fridges and microwaves available for students. Coffee is refilled all day and two times a day there are also snacks like toasts in the morning and popcorn or cookies at the afternoon. You can have your own cup and feel like home!
Every classroom has a tv screen and video live streaming – you can see every detail of demo make-up. You need to have your own kit but you can also rent it or buy some at the school. There is also a library, students love to use it looking for an inspiration.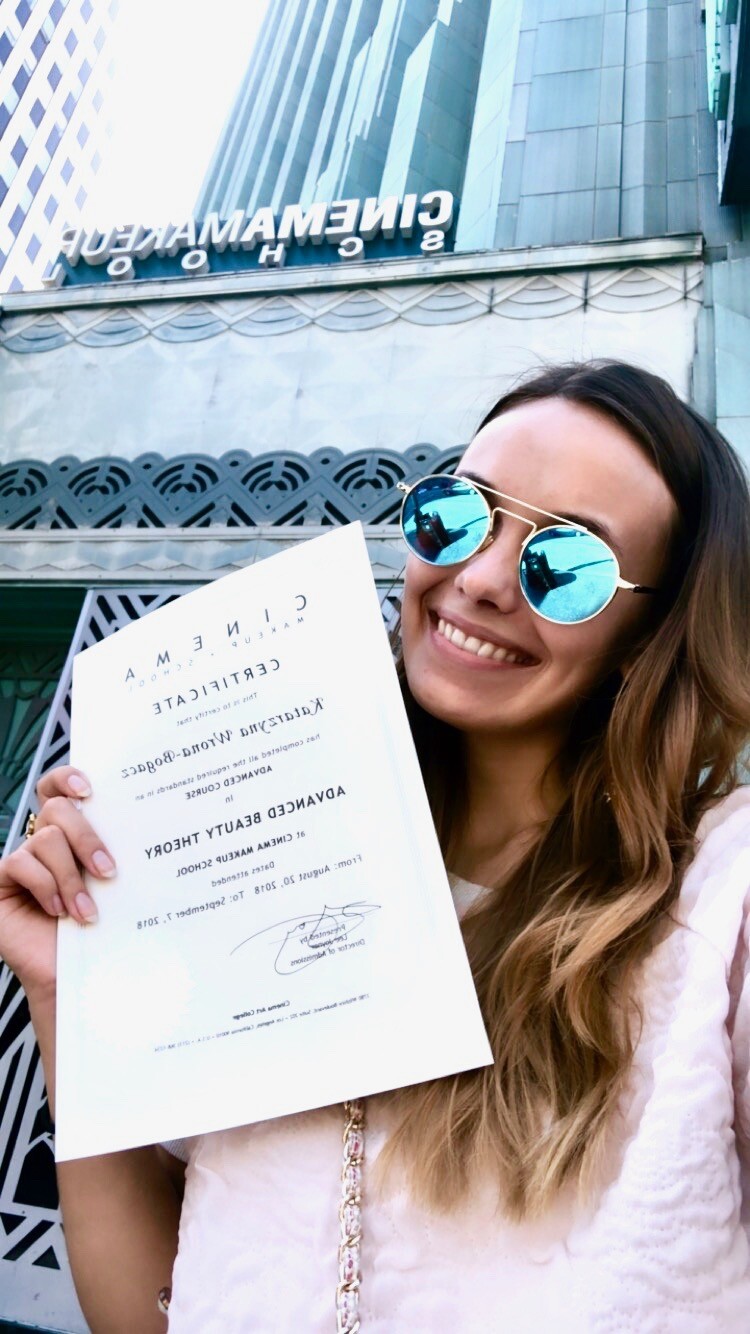 After this three weeks course I have learned a lot. I definitely recommend the school and especially Advanced Beauty Theory course. Love teachers and their individual approach to each student. If you want to learn about business, make-up industry and make-up itself – choose Cinema Make-up School.
Thank you CMS for having me this three weeks! Thank you, Wendy Ann for your creativity and good vibes only – everyday! Thank you guys for correcting my language mistakes and support.
I miss you all and hope to see you soon!