All of those Makeup Revolution products are my favourites. All of them are great quality and affordable. Especially during last makeup seasons Makeup Revolution was exciting – new collections, celebrity collaborations, Revolution Pro and XX Revolution. What are my favourite products? Check this out – you'll love it!
As an experienced makeup artist and makeup instructor I know almost every product of every brand. There are some I would never recommend, some I will never buy again and some which will stay with me forever.
Today – working on all my favourite Makeup Revolution products. I have to admit it was extremely hard to choose. I would love to put them chronologically from my favourite but it's impossible. To be honest it really depends on what you need right now.
It' worth to remember that all of Makeup Revolution products are cruelty free and almost all of them are vegan. All of them are amazing!
#1 – Pro CC Perfecting Pressed Powder
This is absolutely one of my favourite products in a decade. Pro CC Perfecting Pressed Powder is a face powder which you can use instead of foundation. If you don't have to much breakouts or rednesses – it will work great on you. It smooths the skin perfectly, gives light cover, absorbs sebum and has hyaluronic acid which is moisturising. Leaves your skin nourish and bright.
My favourite colour is warm maple. I use fluffy powder brush to get the light coverage, but if you want to get heavy coverage you can apply it using a sponge.
#2 – Revolution PRO Blur Stick baza pod podkład w sztyfcie
This product is my new discovery. I am impressed. It smooths pores so well, that you can't even see the texture of the skin. It is literally – blur effect. It will be perfect for persons with wide pores, wrinkles, scars.
If your skin is naturally healthy you can use only this primer. It has neutral colour, but doesn't have any cover (well, maybe very very light). What is very important, that you have to apply it directly on the skin. Don't use any kind of brush – just take a stick and put it on the skin, spread from the inner parts of the face to the outer parts.
My tip? If you would like to leave the skin as beautiful and smooth as it can be wait 5 minutes before applying foundation. Antoher tip? When applying foundation don't use any kind of brush – just pressed it using beauty blender. It prevents any kind of breakouts.
What can I say about it?
very efficient
leaves very smooth finish
easy to use
very handy
#3 – Makeup Revolution Precious Stone Rose Quartz lip gloss
One of my favourite ever! I know that many of you loved it and bought it after my previous recommendation. Beautiful colour, very sparkly! I wrote about my favourite lipsticks here.
It is also moisturising, nourishing and quite long lasting (when considering a gloss). You can apply it directly on the lips, or put it on a top of matte lipstick. I love to mix it with different colours and structures.
#4 – Revolution PRO Colour Focus Palette paleta cieni do powiek
Pat McGrath? No – it is one of those beautiful eyeshadow pallets form Revolution Pro! Those are just amazing! Stunning colours, really easy to blend, perfectly pigmented. The most important is that you can do a daily makeup and an evening makeup with one eyeshadow palette.
It is impossible to choose one from all of them. I think the most pretty are:
Truth or Dare
Rock and Royal
Smoke and Mirrors
Every eyeshadow palette has matte, satin, holographic eyeshadows. Shadows are very long lasting, easy to blend, easy to match colours.
What I love the most is to use those shadows with mixing liquid or with eyeshadow glue. They are much more intense and stays longer. Those eyeshadows palettes are only 50 PLN in Poland witch is very affordable.
Most of them are vegan, none of them is tested on animals.
#5 – Revolution PRO Sculpt And Glow contouring palette
Those vegan highlighter and bronzing powder are just stunning. Perfect for almost every skin types and tones. My favourite shade is Sands of Time but every one of them is really beautiful.
I know that a lot of you bought this product and will buy it again. That's because I recommend it constantly on my Instagram account!
#6 – Lipsticks from Revolution Pro – Revolution PRO New Neutral matowa szminka nawilżająca
Those vegan lipsticks are very good quality. Mattes, but don't dry out your lips, long lasting, leaves no smudges. My favourite colours are Stiletto, Cashmere, Velvet. I've wrote about them here. Beautiful design, animal friendly, intense, bright colours. No need to say more.
#7 – Revolution Pro Foundation Drops
This foundation is not only very affordable but is perfect for pro MUAs. It is long lasting, perfectly mattifying, good coverage but it is not "freezing" on the skin. My favourite colour is F2 (bright, neutral undertones) but I like F6 as well.
Has very portable and safe packaging.
#8 – XX Revolution Xxpress Paleta Cieni do Powiek
Those eyeshadows are like a butter. Easy to blend, intense pigment and every palette has shiny, satin, matte shadow. There is quite wide range of colours as for such a small eyeshadows palette.
You will find a set for a daily makeup and for the evening as well.
#9 – XX Revolution Xxposure Rozświetlacz
If you want to get a wet look on your skin – cheekbones and brow bones – the Xxposure Highlighter in Nimbus will be the best solution. I fell in love at the first sight!
Explore an extravaganza of colourful eyeshadows, full-coverage concealers, matte and glow foundations in 55 shades, skin-perfecting primers and setting sprays, plus earth-shattering highlighters, bronzers, blushers for every skin tone.

XX Revolution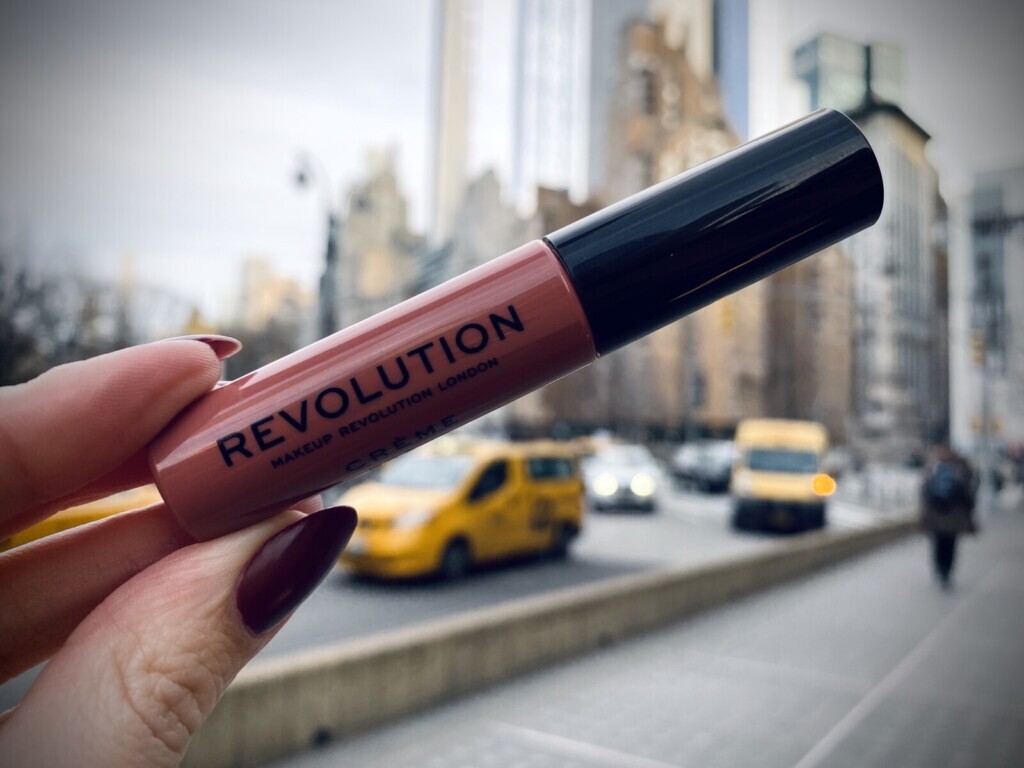 #10 – Makeup Revolution Creme Lip Kremowa Pomadka do Ust
I've took this photo two years ago in New York City, when I've wrote about my favourite lipsticks. This is 113 Heart Race shade – very popular and always looking good. Perfect as well for the evening as for a daylight look.
Can't wait for more collections from Makeup Revolution in 2021. Hope to get some new favourites!