What is the most important in this make-up look? New Year's Eve is a very special evening and you need to look stunning. My idea for the carnival will be… brocade lips make-up! ??‍♀️
This make-up look is a simple and efficiently. You don't need a lot of time, products or skills. It is not a long-lasting but it is a make-up for a more than couple hours. Just don't eat a very greasy food and brocade will stay much longer on your lips.
Recipe for a brocade make-up look
SKIN
Perfect skin is the most important. Do not use a rich cream or any ointment under the make-up. Your make-up won't be long lasting!
Apply a long lasting under make-up base – I love this from LALA FOX, it is really good and they are Korean, environmental friendly and cruelty free products.
You will need a long lasting foundation. I like using LAsplash foundation. It looks good even on a very dry skin.
Remember about the concealer. You can use something more heavy than in your daily make-up, ex. Tarte or Make-up Revolution.
Fix your make-up with a powder, I recommend you to try the Manhattan loose powder or Dermablend Professional. Don't forget about bronzing powder and a blush.
The highlighter is the number one for me in every make-up look, but for the New Year's Eve you just can't miss that! I truly love the Elcie Cosmetics  highlighter – it's my favourite, very soft and smooth.
EYES
The make-up for the eyes should be soft. Focus on the outside corners of the eyes and make them darker, highlight the inside corners.
You need use a shadow base but do not use it too much. I like this one from Make-up Revolution, but you can use your favourite as well.
For the eye make-up I like to use a Marc Jacobs  shadows in natural, adding some dark kohl pencil in the outside corners (best are from Inglot or Maybelline) and blend them up.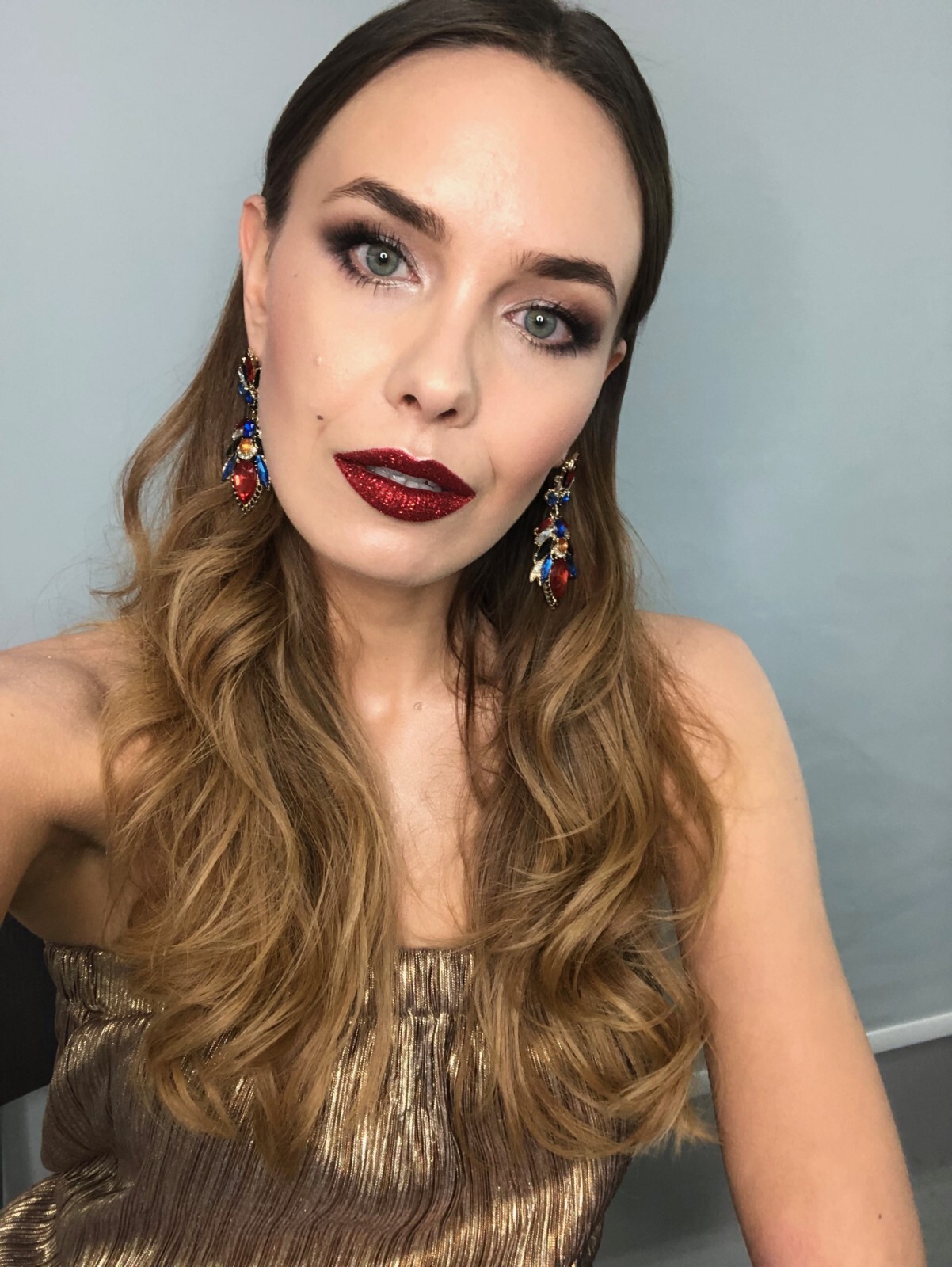 LIPS
Lips are number one for this make-up look.
Use a sticky lipstick on the lips, ex. from Inglot, or use Supracolor, which I've used. Do a perfect line with a pencil, but don't use a lip liner, because it's not sticky enough.
Use a pencil and put brocade on your lips. Apply brocade carefully.
Et voila! Fast and glamorous!
Good luck ❤️
[contact-form][contact-field label="Podpis" type="name" required="true" /][contact-field label="E-mail" type="email" required="true" /][contact-field label="Witryna internetowa" type="url" /][contact-field label="Wiadomość" type="textarea" /][/contact-form]